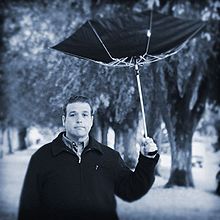 CNN's Belief Blog posted a series of predictions yesterday featuring a variety voices from the current religious dialog. Included in the 11 Faith-Based Predictions for 2011 was this prediction from author Donald Miller:

"As religious tensions grow over the coming presidential election and domestic cultural issues involving perceived legislation of morality, the media will find more zealous Christians reacting to the issues of the day whose extreme positions will further divide the evangelical church into radical positions, and turn away seekers looking for a peaceful resolution to the churning in their own souls.In other words, the devil will play a trick on the church, and the church will, like sheep, lose their focus on the grace and love of Christ and wander astray. Those who seek peace, then, will turn to liberal ideologies."
I'm so glad that Miller was included in the conversation, even though his response was rather gloomy. (Most were.) He's one of my favorite authors and a good representative for those moderate, grace-filled evangelicals that are underrepresented in the media.
But I'm wondering what you think of Miller's prediction. Will the Church lose its focus on Christ this year as elections loom and social issues take center stage? Will those who seek peace turn to "liberal ideologies"? What is YOUR faith-based prediction for 2011?
---
Shareable Permalink
© 2011 All rights reserved.
Copying and republishing this article on other Web sites without written permission is prohibited.