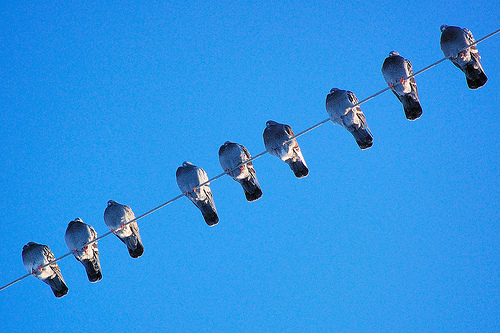 At The Mission we've been talking a lot about community—about how profoundly we long for it, about how seductively our culture lures us away from it, and about how challenging it is to really restore and foster it. Never before have I been so convicted and inspired to live my life alongside other people. And never before have I been so frustrated by the excuses I find not to.
Being a part of a church plant has forced me to confront a vicious cycle in my life, a cycle that goes something like this: 1) I resolve in my head to live like Jesus in community with those around me, 2) I start reading Shane Claiborne books and memorizing the Sermon on the Mount, 3) I get overwhelmed by how impossible it all seems, 4) I get distracted by work and daily tasks, 5) I give up, 6) I feel guilty.
Wash. Rinse. Repeat.
So I've been examining this cycle more closely recently, determined to find a way to break it, and in so doing have identified my top six excuses for keeping my life to myself and avoiding community:
1. "I don't have time." This is by far my favorite excuse. As the book release approaches, I've got interviews to do, blogs to write, conferences to attend, speeches to prepare, and articles to write. Add to that a neglected list of household chores, about a million errands to run, and a host of current relationships to maintain, and spending time with new people—especially people who are different than me—seems like a luxury that only the Shane Claibornes of this world can afford.
2. "My house is too messy." This excuse represents the dark underbelly of Southern hospitality, and I'm ashamed to admit how often I neglect to invite people into our home because I'm afraid they will judge me for leaving dirty dishes in the sink and smudges on the bathroom mirror.
3. "My cooking sucks." Similar to the aforementioned messy house excuse, the cooking excuse keeps me from sharing meals with my neighbors because I tend to overcook meat and am convinced this will make them hate me.
4. "I'm not cool enough." This may come as a huge surprise to many of you, but I'm kind of a dork. I read a lot. I wear old shoes. I shop at T.J. Maxx. I drive a turquoise Plymouth Acclaim. I'm not thin or hip or charming or popular. I'm pretty convinced that most of the folks at The Mission are too cool to hang out with me, so I avoid building relationships to avoid getting hurt.
5. "They're not cool enough." This is the excuse I use to maintain an emotional distance from the people in my life who I've decided are socially awkward, economically disadvantaged, or less educated than myself. I'm ashamed to admit this, but I often think of these people as "projects." They might need me, but I don't really need them, so the time I commit to them is charity, not meaningful or reciprocal or real.
6. "It's bound to get ugly." I tell myself that it's only a matter of time before these people figure out that I'm not a particularly good Christian—that I'm a doubter, that I'm selfish, that I'm prideful, that I'm judgmental, that I'm insecure, defensive, and afraid. And chances are, they are too. Relationships are draining because they come with baggage and conflict. It's so much easier just to avoid them.
As I examined these five excuses I realized there was one underlying vice beneath them all.
Perfectionism.
I've convinced myself that no one will want to live in community with me unless my house is clean, my cooking impeccable, my outfits trendy, and my life in order. I've convinced myself that work is the most important thing in my life, that I've got nothing to offer a community until I've sold a gazillion copies of my book and nabbed that elusive dangling carrot of "success." I've convinced myself that community will have to wait until I've got it all together…and until everyone else has it together too. I've convinced myself that a community is a place without sin or conflict or change.
The great irony, of course, is that community thrives on imperfection.
Where one person is weak, another is strong. When one person falls, another is there to help. When one person cooks, another can clean, another can teach, and another can lead. Where one sees the forest, the other sees trees.
We need community precisely because we are imperfect, and if we wait until we are perfect to embrace community, it will never happen.
I've just got to get over myself enough to realize that I am not the exception to this rule.
So what are your favorite excuses for keeping to yourself and avoiding community? Does perfectionism play a role? What about fear, insecurity, or pride?
(Photo by c.a.muller)
---
Shareable Permalink
© 2010 All rights reserved.
Copying and republishing this article on other Web sites without written permission is prohibited.