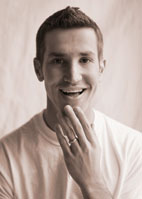 So today I wrote a guest post for SCL entitled, "Secretly Being Liberal," and so far the comments have me in stitches. (And no one has called me a communist yet! A success!)
I have of course convinced myself that said guest post will catapult my blog stats into new, mind-boggling heights, which is why I would like to take this moment to mention that I've written a book entitled Evolving in Monkey Town which you can purchase on Amazon or at a fine bookstore near you.
(I may be a liberal, but I've got nothing against capitalism.)
This latest post represents another step toward publically owning my more…"progressive"… views, so I want to once again state my conviction that no political party or platform could ever embody the radical teachings of Jesus Christ, so our decisions at the ballot box always represent a sort of compromise. It's not up to a bunch of elected officials to represent our Christian values in the world; it's up to us.
As followers of Jesus, our allegiance is first and foremost to the Kingdom of God, which expands not through power or war or elections, but through service and love. When we keep this allegiance in mind, it's easier to tolerate (and maybe even laugh about) our political differences.
So, do you lean to the right or to the left? What would you add to a list of "Stuff Progressive Christians Like" or "Stuff Conservative Christians Like"?
---
Shareable Permalink
© 2010 All rights reserved.
Copying and republishing this article on other Web sites without written permission is prohibited.
Browse articles with tag:
fun