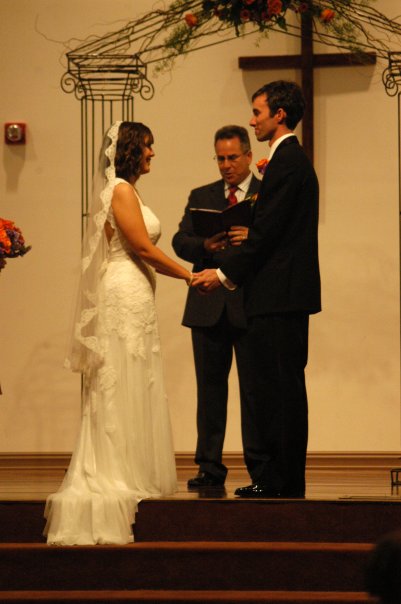 ...But I think that every pastor or priest who intends to perform wedding ceremonies should as a prerequisite spend at least 50 minutes standing perfectly still in a pair of three-inch heels. (My feet were numb for a full 24-hours after the wedding!)
It was worth it, of course. The ceremony was beautiful, as was the reception. I'm so happy for my sister and her new husband.
I'll have a new post up tomorrow, after I've had some time to rest, soak my feet, and do something about the explosion of food, flowers, and clothing that seems to have occurred in my house. Thanks for your patience while I catch up on emails/ blogging/ Twitter/ phone calls.
So, do you have any funny memories from a weddings in which you participated? Been to any strange or unusual wedding recently?
(Thanks to my friend Cathy Barnes for the picture!)
---
Shareable Permalink
© 2009 All rights reserved.
Copying and republishing this article on other Web sites without written permission is prohibited.
Browse articles with tag:
fun